Playground Design for Schools, Nurseries & Education Facilities
Need fresh ideas for your playground or simply wish to refresh an existing area?
We design and construct unique learning-through-play spaces for schools of all sizes throughout London, Surrey, Sussex and Kent. Our budget-conscience designs make creative use of the space available – whatever its condition or purpose.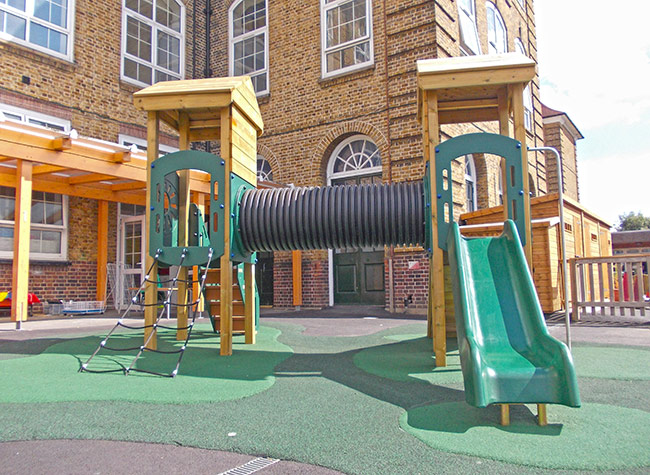 Traditional Playground Equipment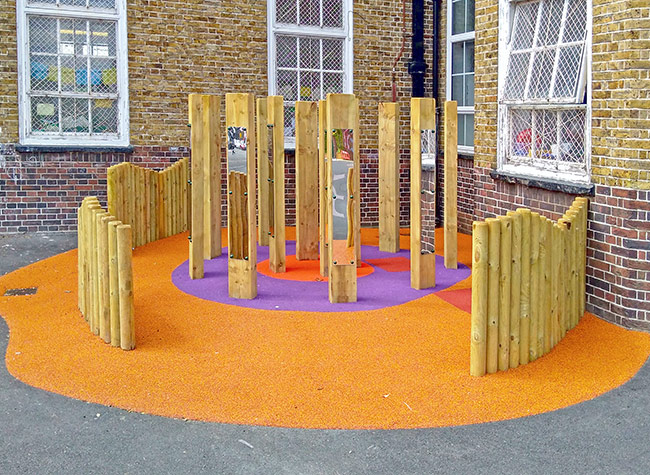 Bespoke Design & Installation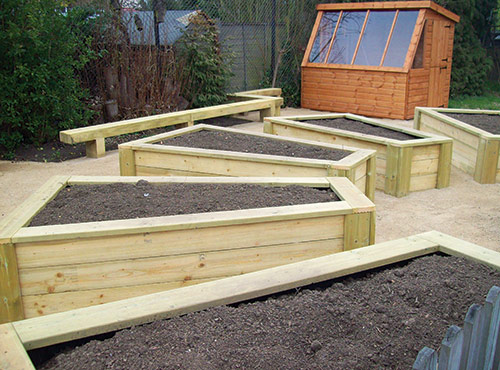 Grow & Learn Areas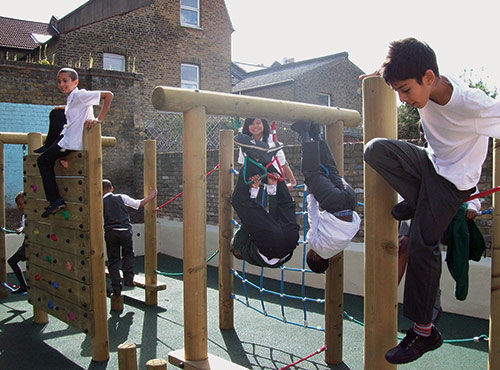 Playground Safety
Bespoke School playgrounds – vibrant spaces for learning, exploration & play
Play Spaces of all shapes & sizes
Grow & Learn Areas & School Farms
Adventure Play Solutions
Shelters & Seating
Safety Surfaces, Pitches & Line Marking
Activity Panels & Outdoor Games Equipment
Design, Building & Installation
We believe that playgrounds are made better by design. Drawing on our experience of creating and constructing RHS award-winning gardens, we will design a cost-effective, bespoke solution for your school – whatever the space available, whatever your objectives and whatever your budget. And because no two schools are the same, we believe that no two playgrounds should be the same either!
We are of the strong opinion that time spent playing outdoors is time well-spent. Encouraging children to be active, to develop new skills, solve problems, use their imagination and have fun doing so are essential components that are all carefully considered in a Boardman, Gelly & Co created play area.
Different spaces have different requirements – some are practical, such as areas for growing vegetables or plants, or shelters for seating and storage; some, like outdoor classrooms and sensory gardens, offer exciting new learning experiences; whilst activity areas encourage exercise, team-work and problem solving. Quieter spaces for relaxation, reading or role-play equally important.
We can brighten up outdoor spaces through our line-marking service too. Whether you are looking for something new or simply wish to refresh existing areas – from traditional sports pitches to spiral mazes – we will be happy to help.
See examples of completed Playground and Play Area Design projects in our Gallery or read about them in Case Studies.
Cost Conscious Approach
Wherever possible, we use recycled materials in our play spaces, safety surfaces and play equipment. If there are existing onsite materials that can be safely re-used we will incorporate these too. We love seeing our designs come to life and the enjoyment they bring.
Playground Safety
We understand that pupil safety is paramount. Our play spaces are carefully designed to minimise risks and we are members of RoSPA, the Royal Society for the Prevention of Accidents. Our team are all DBS checked, fully qualified and fully insured. We work closely with school management teams throughout each stage of the design and installation process and, where possible, we encourage schools to let pupils get involved too.To find out more get in touch using the details below.
How safe is your school playground?
Stephen Gelly, our staff specialist is a RoSPA Trained Operational Playground Inspector with Level 2 Operational Inspections of Children's Playgrounds. He can inspect your playground and provide a documented safety inspection report for £175 (+VAT).
For a free no obligation estimate or to arrange a playground safety inspection report contact us on 01306 611 231 or email info@boardman-gelly.co.uk
For playground design advice or to book a safety check get in touch with us
What our customers say about our playground design & installation work
"Utilising every bit of space in an inner city school is vital. This will enable the pupils to grow their own vegetables and flowers, giving them a connection they would not have otherwise had. On every pupil survey the children said they wanted a growing space. Now they have"